Produktbeschreibung
1. VNCI 6154A VAG diagnostic tool for Volkswagen Group's models from 1995 to 2020, perfectly replace VAS 6154A
2. Full support CAN FD/DoIP Protocol, 100% Compatible with original drivers and latest ODIS software
3. VNCI 6154A Work with original driver, Don't need driver manager.
2023 VNCI 6154A ODIS 11 VAG Diagnostic Tool for VW Audi Skoda Seat Support CAN FD/DoIP Protocol and Original Driver pk VAS 6154A
VNCI 6154A VAG diagnostic tool is 100% Compatible with original drivers of different versions, so you can switch freely without modifying any files. It supports the latest ODIS service software and continuous operation for 8 hours.
VNCI 6154A is suitable for individual enthusiasts, regular auto repair shop, and authorized official maintenance and technical service stations. Compared with the original VAS 6154A, you can spend less than one-tenth of money to have it.
VNCI 6154A Features:
VNCI 6154A Work with original driver, don't need driver manager, no need for third-party software, plug and play
With base station/hotspot mode switching button
Compatible with ODIS-E 14.1 software
Support DoIP, CAN FD protocol
Free license until 2030 year
Works for all VAG Brands from 1995 to 2020
Supports WIFI and USB Connection
Supports win10 64bit systems
Full Multilanguage edition covered 22 languages: English (GB), English (US), French (FR), German (DE), Spanish (ES), Russian (RU), Greek (GR), Danish (DK), Croatian (HR), Italian (I), Hungarian (HU), Netherlands (NL), Polish (PL), Portugal (PT), Romanian (RO), Slovenian (SLO), Finish (FI), Swedish (SW), Turkish (TR), Czech (CZ), Japanese (JP), Chinese (CN), Korean (KO).
VNCI 6154A Driver Download: rokwy.com/download/VNCI6154ADevMngrSetup.exe
ODIS 10 Download Password: 6vi5ku
ODIS 11 Download: https://share.weiyun.com/Uhje6rQJ Password: s6jbq5
For the ODIS 10 and ODIS 11 software, you can contact our customer service. We will help you to download it via Teamviewer
V2.5 VNCI 6154A Device Manager Free Download
System Requirements:
Windows10 64-bit professional edition
4GB of memory
At least 100GB of free space on the C driver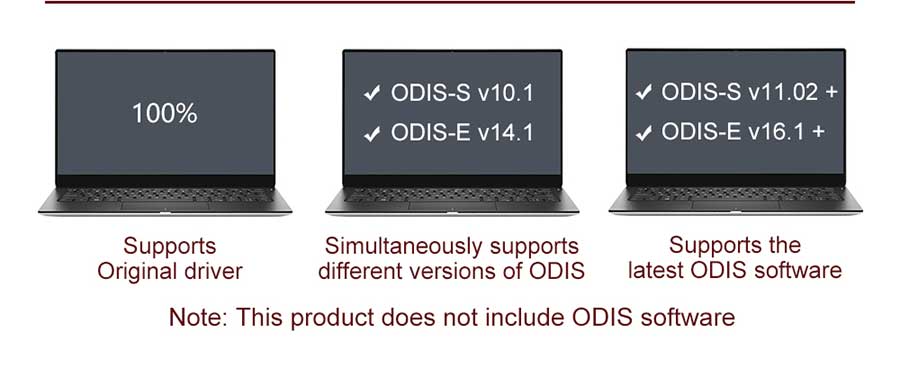 Product Features:
No need to replace the original driver, no need for third-party software, plug and play.
Three connection methods to adapt to various scenarios: USB connection mode, AP direct connection mode, Base station connection mode.
Full-featured and Excellent Performance,
Covering all Volkswagen Group models from 1995 to 2023 and beyond.
Stability, reliability, and repairability are far superior to the original VAS 6154A.
Support DoIP protocol,
Support CAN FD protocol
Support online function
Plug and play
Capable of handling large data flashing.
100% support for all original factory function.
Product Functions:

Online function
Clear fault codes
Flashing of hidden features
Coding and programming
Covering most of the models under Volkswagen Group's automotive brands
Support ODIS service v9.10/v10.0/v11.0+
Support ODIS Engineer v14.1/v15.0/v16.0+
100% Support DoIP protocol
100% Support CAN FD protocol
Support KWP2000/UDS/CAN/K-Line......etc protocol
100% support all protocols
Vehicle diagnosis
Online/Offline programming
Flashing of hidden features
Support all ODIS service and ODIS engineer function
etc......
Covered models:

Volkswagen: 1995Y-2023MY+
Audi: 1995MY-2023MY+
Seat: 1995MY-2023MY+
Skoda: 1995Y-2023MY+
Bentley: 1995MY-2023MY+
Lamborghini: 1995MY-2023MY+
MAN: 1995MY-2023MY+

LED light instructions:
Orange: Mode
Green: Power
Red: DoIP communication
Blue: Connection status
Button: AP connect mode and Station connect mode switch button
Why should we choose VNCI 6154A ?
System Requirements:
Win10 64-bit professional edition
4GB memory
At least 100GB of free space on the C drive,
Usage recommendation:
The original ODIS service or ODIS engineer software must be installed original software
The original driver can not be replaced, and third-party ODIS driver can not be installed
Computer System requirements:
Windows10 64-bit professional edition
4GB of memory
At least 100GB of free space on the C driver
VNCI 6154A power supply methods:
OBD port 12 power supply
USB port 5v power supply
Package Includes:
1pc x VNCI 6154A




About Delivery

EU Warehouse Shipping: 3-5 working days. We have stocked up hot sale items in EU(Czech) Warehouse ,which is more convenient for you. Free TAX, faster shipping with cheaper price.

Yanwen Express: 9-14 working days ,we will prepay the tax,then do not need customers to pay tax for most european counties
( We will send by Yanwen Express by default because of EU high Customs tax. If Customers need the faster DHL shipping method and willing to pay the high tax .Pleasee leave message to us in time after placing the order)

DHL Shipping: 3-5 working days, To help you clearance we will help declare a lower price on the invoice. If address is remote area, customer need pay remote freight or we will ship by Normal Post or Yanwen Express.


Note:
1.All of the items will be shipped to PAYPAL Shipping Address,please confirm your address on PAYPAL before you buy.
2.Your order will be usually shipped out the same or next business days once the payment is made, except on weekends and holidays.


Contact information:
Email:
Sales@DiagOBD2.de
Skype:
diagtool.de
Mobile:+86 15223201143
WhatsApp: +86 15223201143Handy Version: Bitte scannen das Bild, koennen Sie per Handy Kaufen!!!