Produktbeschreibung
XTOOL D9 is a full system auto diagnostic scan tool which enables users to perform OE-level full diagnostics and view intelligent topology map.
XTOOL D9 Automotive Scan Tool Topology Map Bi-Directional Control ECU Coding Full Diagnostics & 42+ Reset Services Support DoIP & CAN FD
XTOOL D9 is a full system auto diagnostic scan tool which enables users to perform OE-level full diagnostics and view intelligent topology map.
XTOOL D9 Features:
OE-level full diagnostic & Guided Function (for VAG)
The full system diagnostic enables users to view the communication structure between modules clearly with all the situation of each system to read/clear codes, live data PIDs graphing for all vehicle systems including engine, transmission, chassis and safety control system, body control system, communication and entertainment system, etc.
Intelligent Topology Map to Faster Diagnosis
XTOOL D9 auto diagnostic scan tool new-added intuitive topology module mapping, having everything in a view on the communication structure between modules just one click to display all fault codes, executive functions and view live data in graphing directly. Help technicians to save time and effort! Shop Repair efficiency is improved at least by 60%!
Note: This function is not available for all vehicles.
Advanced ECU Coding & Refresh Hidden Functions
XTOOL D9 performs online coding to flash the hidden features, personalized settings, or disable the annoying functions, such as turn off the back up beep, turn the seat belt buzzer off and reprogram the adaptive data for certain components after repairs or replacements.
Bi-Directional Control & Auto VIN
Full control over all various vehicles components to perform active tests like EVAP test, idle relearn, injector test, cycling ABS motor pump, A/C clutch switch On/Off, windows turn On/Off, fuel trim reset, fuel composition reset, etc
AutoVIN functions allow you to quickly figure out Vehicle Identification No. (VIN) to perform fast diagnostics.
IMMO/Key Programming
Add/reprogram new Keys/Fob/Remote, disable lost keys key programmer functions and most of which are the same as the x100pad3,x100 elite.
3 Years Software Update & Support 14+ Languages
XTOOL diagnostic tool D9 Supports 14+ menu language including English, Spanish, Portuguese, French, Japanese, German, Polish, Russian, Italian, Korean, Dutch, Swedish,etc. 3 Years Free online update (values 800$). After 3 years your scanner can still keep works with the software even if you do not pay the software update fee.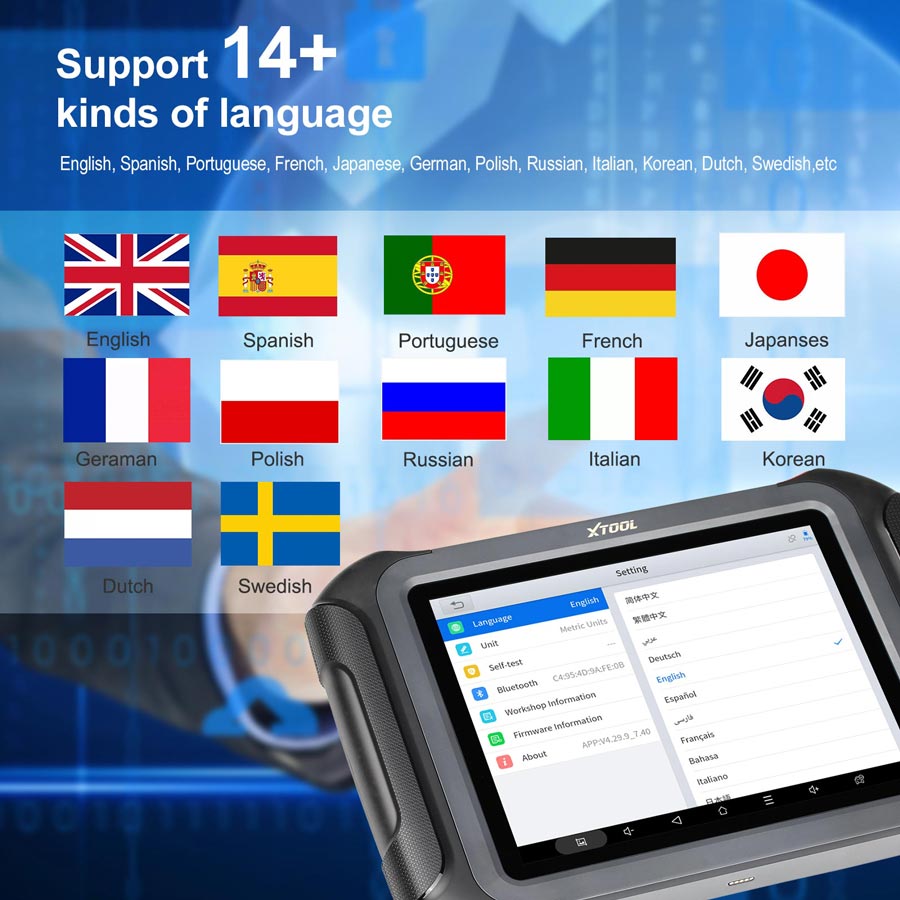 Bluetooth +Cables
XTOOL D9 can be connected via bluetooth or cables. If D9 is out of battery, we can use the cables to power it and the bluetooth signal for 10 meters.
Report Share and Printing
D9 auto diagnostic scan tool enables diagnostic tech or mechanics to generate diagnostic reports before and after car diagnostics and maintenance services by printing it out or sending it to customers via PDF.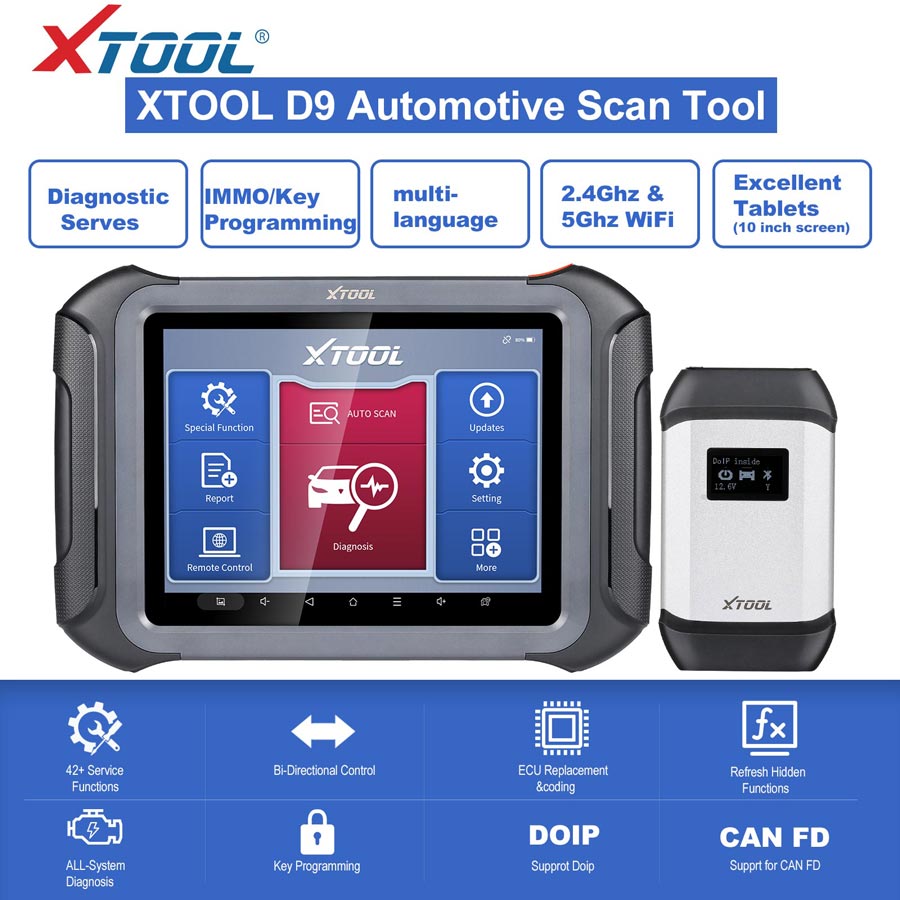 XTOOL D9 Functions:
42+ Maintenance Services & Full Special Functions
Oil Reset, EPB, BMS, SAS, DPF, Throttle Relearn, ABS Bleed, Key Programming, injector Coding, Air Suspension, Transmission Relearn, TPMS Reset, Airbag Repair, Hybrid Control Compression Test, HVAC Control Module Calibrate, Zero Point Calibration, Injector Balance Test, Fuel Trim Reset, Cylinder Power Balance, Crankshaft Sensors Relearn, rewrite the VIN on PCM, alcohol composition reset, suspension calibration, etc.
Oil Reset: Reset service intervals after oil change and turn off the oil light.
EPB Reset: Reset brake pads after replacement of brake system.
SAS Adjustment: Perform calibration of the steering angle sensor
DPF Reset: Perform DPF regeneration
BMS Reset: Register the new battery to the ECU after replacement.
Throttle Relearn: Enables you to make initial settings to throttle to adjust the amount of air intake.
ABS Bleeding: Perform ABS Brake Bleed function to cycle the ABS pump to bleed the air out of the ABS.
Injector Coding: Coding injectors after replacement.
Transmission Match: Reset the adaptive shifting points in your automatic Transmission Control Unit.
Gear Learning: Crankshaft position sensor learns crankshaft tooth machining tolerance and saves to the tablet to diagnose engine misfires more accurately.
Key Programming/IMMO: Disable the lo~st vehicle keys and program a new replacement key fob.
More Special functions are added: Steering position sensor calibration, Zero Point Calibration, Injector balance test, ECU Configuration, VGT Turbo Calibration Idle Learn Reset, Alcohol Content Reset, ABS Initialization, Seat Weight Sensor Calibration, Fuel Trim Reset, Cylinder Power Balance, Crankshaft Sensors Relearn, Language change, A/F Settings, Stop/Start Reset, etc.
Note: All the service functions available vary for different vehicle models. Please contact us to check compatibility with car VINs.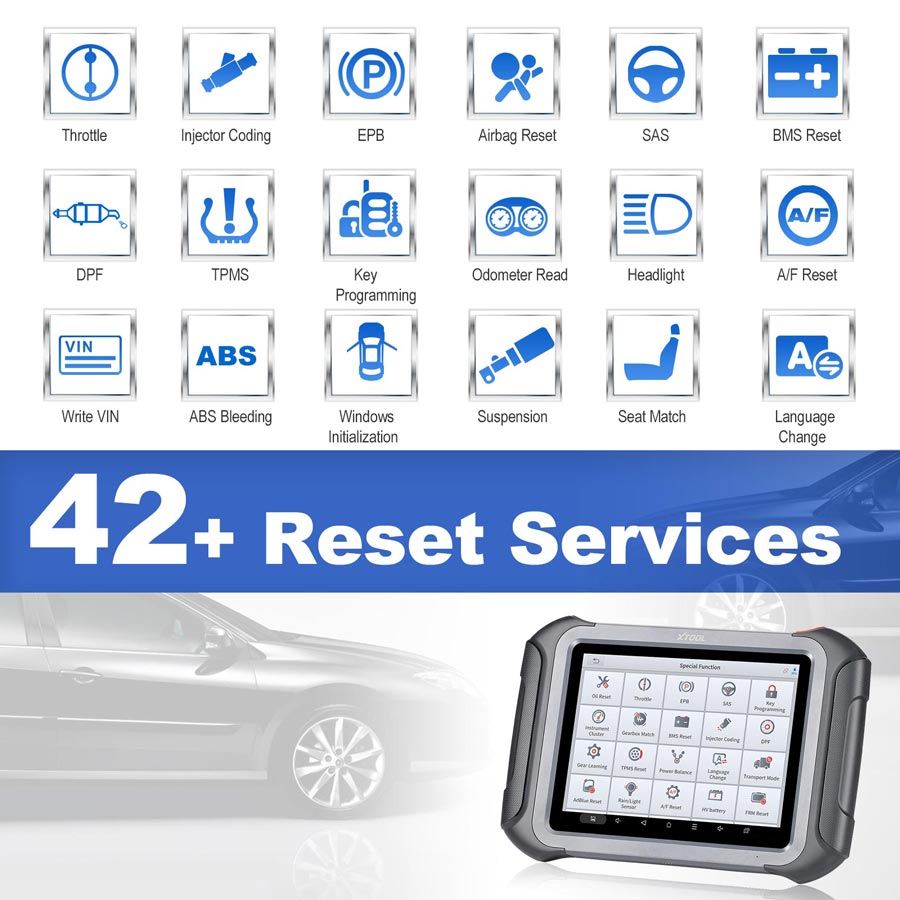 Support CAN FD/DoIP
Access new communication protocols of CANFD (for MY2020+ GM models), and DoIP (compatible for BMW E/F/G Chassis, Jaguar, Land Rover vehicle makes)
BT Connection & Wired Connection via USB Type B cable
2.4Ghz & 5Ghz WiFi, BT Connection make it easy to move from the dash to the front of the car. With the USB cable along with Bluetooth, the user has convenience along with certainty that the system will work one way or another.
Extended function(with KC501+KS01+SK1,etc.)
XTOOL D9 can work with KC501 KC100 KS01,etc.,(package dose NOT include), as the key programmer for VW's 4th, 5th IMMO, for Mercedes-Benz infrared key programming, and for Mercedes-Benz keys lost + Toyota/Mitsubishi all keys lost, and other keys for more models programming.
Top Hardware Configuration:
| | |
| --- | --- |
| System | Android 10.0 systems |
| Processor | Quad-Core 1.8GHz |
| Memory | 2G RAM & 128G |
| Screen | 9.7'' Touch Screen |
| Resolution | 1024*768 |
| Battery | 10000mAh |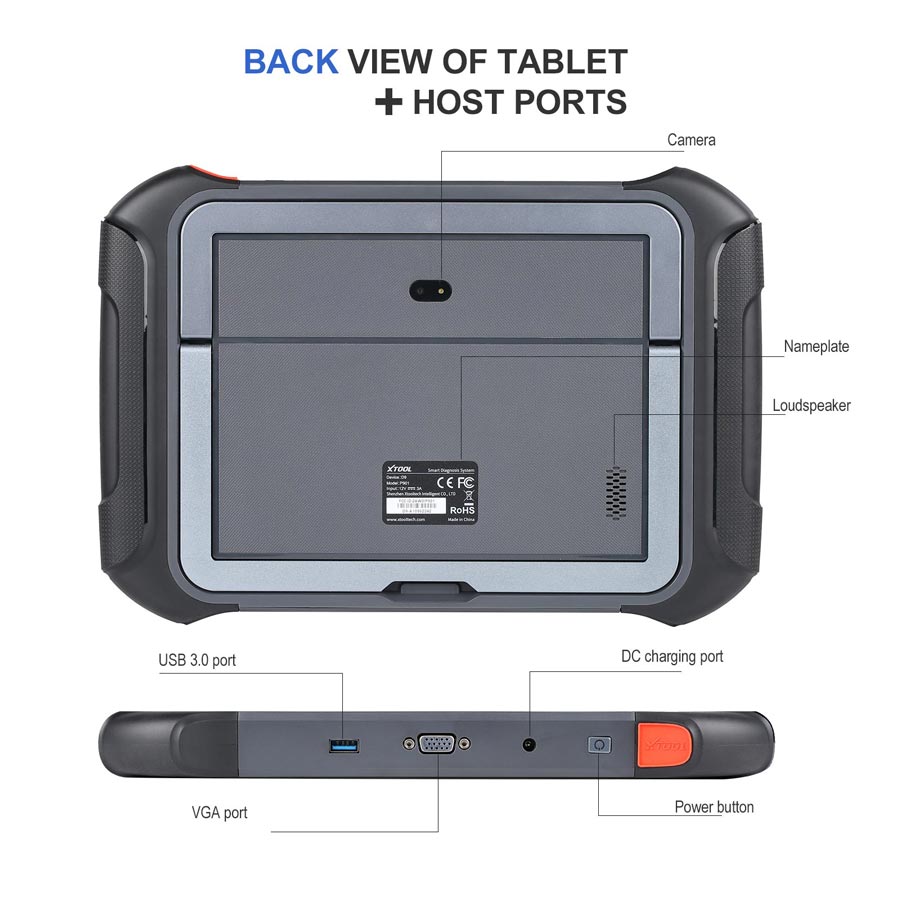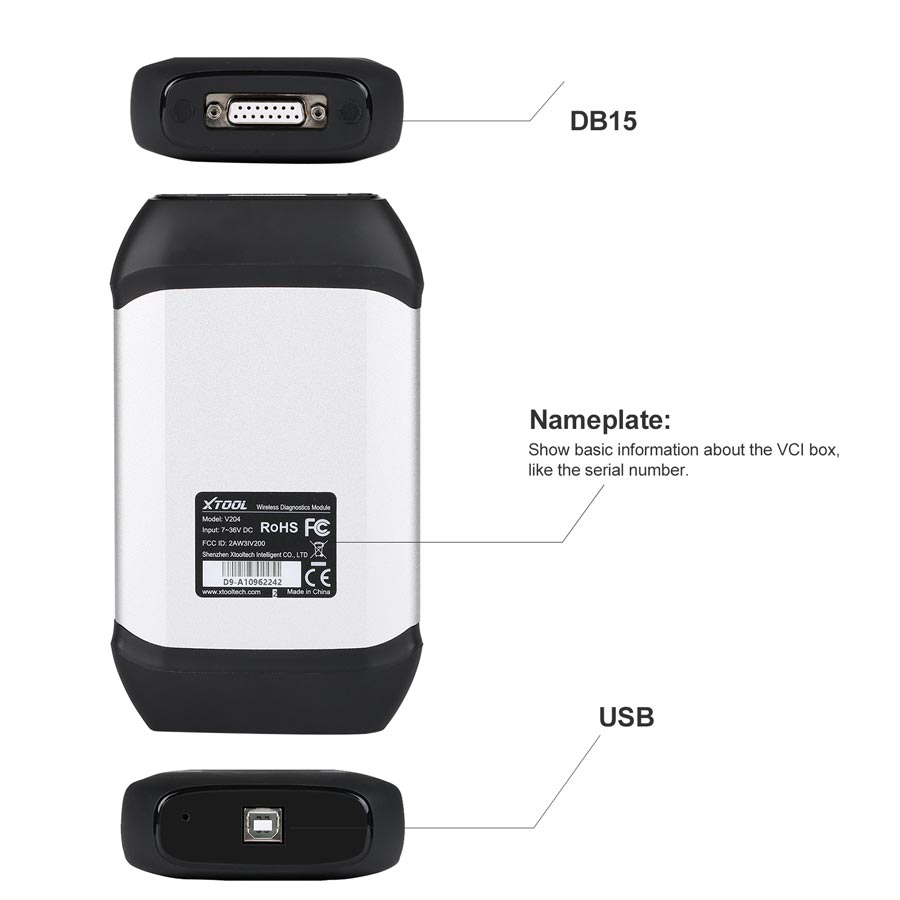 XTOOL D9 Includes: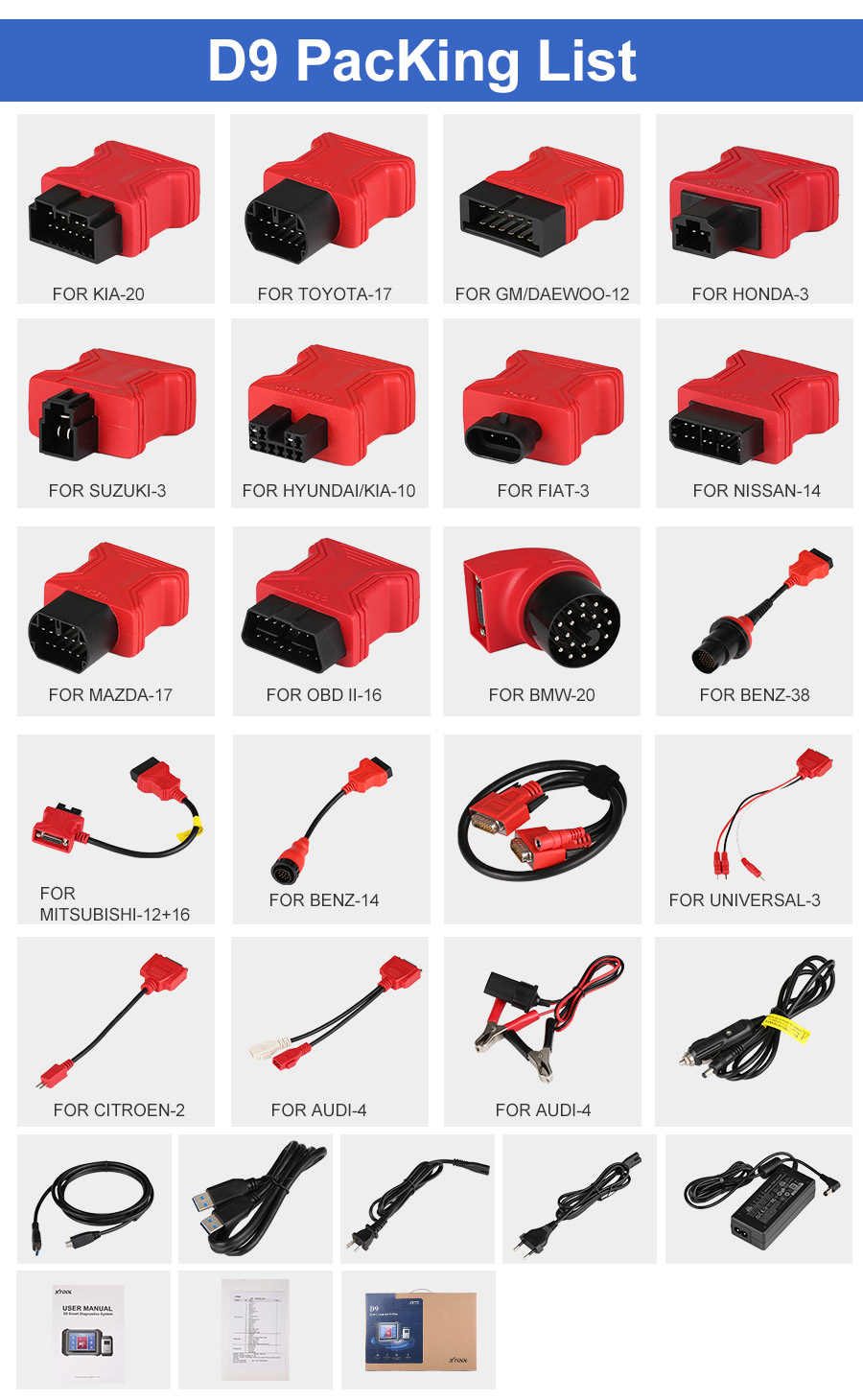 1pc x XTOOL D9 tablet
1pc x For KIA-20 adapter
1pc x For Toyota-17 adapter
1pc x For GM/DAEWOO-12 adapter
1pc x For Honda-3 adapter adapter
1pc x For Suzuki-3 adapter adapter
1pc x For Hyundai/Kia-10 adapter adapter
1pc x For Fiat-3 adapter
1pc x For Nissan-14 adapter
1pc x For Mazda-17 adapter
1pc x For OBD2-16 adapter
1pc x For BMW-20 adapter
1pc x For Benz-38 cable
1pc x For Mitsubishi-12+16 cable
1pc x For Benz-14 cable
1pc x Main cable
1pc x For Universal -3 cable
1pc x For Citroen-2 cable
1pc x For Audi-4 cable
1pc x For Audi-4 clip cable
1pc x Cigarette lighter
1pc x Power adapter
1pc x USB cable
1pc x Type-C cable
1pc x US power cord
1pc x EU power cord
1pc x Manual




About Delivery

EU Warehouse Shipping: 3-5 working days. We have stocked up hot sale items in EU(Czech) Warehouse ,which is more convenient for you. Free TAX, faster shipping with cheaper price.

Yanwen Express: 9-14 working days ,we will prepay the tax,then do not need customers to pay tax for most european counties
( We will send by Yanwen Express by default because of EU high Customs tax. If Customers need the faster DHL shipping method and willing to pay the high tax .Pleasee leave message to us in time after placing the order)

DHL Shipping: 3-5 working days, To help you clearance we will help declare a lower price on the invoice. If address is remote area, customer need pay remote freight or we will ship by Normal Post or Yanwen Express.


Note:
1.All of the items will be shipped to PAYPAL Shipping Address,please confirm your address on PAYPAL before you buy.
2.Your order will be usually shipped out the same or next business days once the payment is made, except on weekends and holidays.


Contact information:
Email:
Sales@DiagOBD2.de
Skype:
diagtool.de
Mobile:+86 15223201143
WhatsApp: +86 15223201143Handy Version: Bitte scannen das Bild, koennen Sie per Handy Kaufen!!!